Welcome to our blog
Read about life in Wolf Willow
Enter the WestCreek Halloween Pumpkin Carving Contest
WestCreek's 2023 Halloween Contest Happy Halloween! Are you ready to carve some pumpkins? We're so excited to bring back WestCreek's annual Howlloween contest for the fourth year! We happily invite all residents, friends and family, and visitors of Wolf Willow, Legacy, and CornerBrook, to enter our 2023 Howlloween pumpkin carving contest. Pick up your FREE Halloween gift […]
Bike to These Beautiful Destinations in Fish Creek Park from Wolf Willow
One of the best parts about living in Wolf Willow is the easy access to Calgary's nature reserve, Fish Creek Provincial Park. As one of the largest urban parks in North America, Fish Creek Park spans over 13.5 square kilometers and offers a wide range of outdoor activities and natural beauty to take in. We've […]
Basic Dog Park Etiquette
Originally published in May 2021.Post updated in April 2023. The upcoming Wolf Willow dog park is one of the most highly anticipated amenities coming to south Calgary. It's an excellent place for both people and pets to get some exercise and socialization, but in order for the dog park to be a safe and welcoming […]
Home Maintenance Care Tips for New Homeowners
As a new homeowner, there's nothing quite like the feeling of owning your very own space. However, with great power comes great responsibility, and that responsibility is maintaining your new home. Home maintenance is crucial to the longevity of your home, and it's essential to have a solid plan in place to ensure your home […]
A Guide to the Best Parks in Calgary's Southeast
Calgary's southeast is home to some of the most beautiful parks in the city, offering a peaceful escape from the hustle and bustle of daily life. Spring has finally arrived, so we wanted to show you some of the best parks in Calgary's southeast and share with you the benefits of spending time in nature. […]
Top New Restaurants to Visit in SE Calgary's Legacy
2022 was a great year for new restaurants in SE Calgary! According to Avenue Calgary, the city added 147 new restaurants during the year and a large, delicious section of those are right here in our own quadrant. Between the new dog park, Fish Creek Park, and our abundance of green space, there's no lack of […]
Easy Holiday DIY Crafts Inspired by Nature
As soon as snow starts to fall, many Calgarians break out their holiday decorations to add some festive cheer and warmth to their homes. Even though the winter season is cold with long nights, you can still find plenty of beauty in the season, especially out in nature! We pulled together some crafty DIY holiday […]
How to Stay Active in Winter in Calgary
Staying active in winter in Calgary can be tough. It's not just the cold that's the problem, though—it's also the lack of daylight hours, especially in December and January. That being said, it's important to keep active when it comes to maintaining your health and happiness even during the darkest months of the year. Luckily […]
Fall DIY Décor Inspired by Fish Creek Park
When the seasons change outside, switching up your décor inside your home will keep it feeling fresh! Now that the leaves are changing colours and there's a chill in the morning air, it's time to put away your summery linens and bright florals, and instead bring out the cozy fall décor! With Wolf Willow being […]
Happy Howlloween!
WestCreek Development's 2022 Halloween Contest and Showhome Grand Opening Event Happy Halloween! Are you ready to carve some pumpkins? Last year, we expanded Wolf Willow's Howlloween contest to all three of WestCreek Development's communities. We had so much spooktacular fun, we decided to bring it back for our third year! We happily invite all residents, […]
Want to Try Fly Fishing on the Bow River?
Avid fishers come to Calgary from all over the world just to go fly fishing on the beautiful Bow River. One of the major perks of living in Wolf Willow is that the Bow River and Fish Creek Park are within walking distance. With direct access to the river from the community, living in Wolf […]
Fish Creek Park Day Use Areas to Visit Near Wolf Willow
One of Wolf Willow's features we love to highlight the most is its close proximity to Calgary's beautiful nature reserve – Fish Creek Provincial Park. The community is directly attached to the nature park, making it easy to hit the trails whenever the mood strikes. Currently, there is one access point to the park, with […]
Our Favourite Dog Parks in South Calgary
Did you know Calgary is home to 157 off-leash areas in the city? If you have a dog, knowing where to find the best dog parks near you is an absolute must.   Wolf Willow will soon have our very own state-of-the-art dog park in the community, with construction slated to start in summer 2023. […]
Discover Fish Creek Provincial Park – Wolf Willow's Impressive Neighbour
This post was updated in April 2022 for clarity and additional content. One of the most exciting Wolf Willow amenities is Fish Creek Provincial Park. The park is directly attached to the community at the north end by way of a parking lot, for the convenience of Wolf Willow residents and other Calgarians alike. Ultimately, […]
When to Start Planting Your Garden in Calgary
With spring finally on the horizon, many residents of Calgary have been gearing up for their favourite outdoor activity – gardening! If you've been looking to get the most out of your new backyard in Wolf Willow, growing a garden could be your next hobby. There are many benefits to growing your own garden. Gardening […]
10 Local Restaurants in Southeast Calgary You Need to Try This Year
The new year is finally here, and with it comes the usual round of goal setting and making resolutions for the coming months. If you have trouble sticking to your resolutions, we have a great one for you– try visiting more local restaurants in 2022! You don't have to drive all the way downtown to […]
Happy Holidays
A message from Westcreek Developments To our amazing residents and homeowners of Wolf Willow, Even after another year of living through a global pandemic, we believe 2021 was the year of building community. We want to thank you, the residents of Wolf Willow, for making that a reality. We value each and every one of […]
Outdoor Winter Activities to do this Holiday Season
Just like that, the seasons have changed again, and now we're greeted by the chilly winds and snowfall of winter. As we all know living in Canada, winter lasts quite a long time, so we may as well enjoy it while it's here! We've put together some ideas you can do to in southeast Calgary […]
Wolf Willow's Holiday Magic on the Bow
With the 2021 holiday season already upon us, Wolf Willow is putting on its first Christmas event this year! Join us in celebrating this magical season. We happily invite all residents, friends and family, and visitors of Wolf Willow to participate in our 2021 Holiday Magic on the Bow event. Grab your free holiday gift […]
What's Coming to Wolf Willow in 2022?
Updated in July 2022 to reflect changes to the daycare tenant. The end of 2021 will be here before we know it, so it's time to look to the future and see what's coming to Wolf Willow in 2022. Read on to see what will be joining our growing community nestled in southeast Calgary in […]
What to Wear to Fish Creek Park as the Weather Gets Colder
Good news – just because the weather is getting colder in Calgary doesn't mean you have to stay inside. With the right gear, you can continue to enjoy the walking paths and trails in and around Wolf Willow all year long! Keep your limbs warm The most important rule when spending time out in the […]
WestCreek Howlloween Contest
Happy Halloween! Thanks to Wolf Willow's amazing response to last year's Howlloween contest, WestCreek Developments has decided to bring the spooktacular fun to all three of its communities this year. We happily invite all residents, friends and family, and visitors of Legacy, Cornerbrook, and Wolf Willow to participate in our 2021 Howlloween pumpkin carving contest! […]
Wolf Willow Osprey Park Opening
Join us for an afternoon of family fun! We are excited to announce the completion of Wolf Willow's first themed playground, Osprey Park! As you may or may not know, all of Wolf Willow's playground's themes are centred on local wildlife and history. Osprey Park is inspired by the osprey, a bird of prey, found […]
Easy Fall Recipes to Warm Your Belly (and Your Heart)
Ah yes, it's that magical time of year – where the morning air is crisp, leaves crunch beneath your feet, and sweaters and leather move to the front of your wardrobe. That's right, it's fall, which means it's also time to add our favourite cozy dishes back into the meal rotation. We rounded up 5 […]
How to Meet Members of Your New Wolf Willow Community
Moving to a new neighbourhood can be an exciting adventure! It can also be a little scary if you don't know anyone in the area. One of the easiest ways to meet people is to join a club. Since Wolf Willow is a new community, there are a lot of opportunities to create your own […]
Schools In and Around Wolf Willow
Wolf Willow is conveniently situated within a short distance to many excellent schools. Inside the community of Wolf Willow, there are two designated school sites—one is set aside for a future Calgary Board of Education K-9 school and the other for a future Calgary Catholic K-6 school. Over fifteen public, Catholic, and private schools are […]
9 Amazing Summer Activities in Calgary's Favourite South Community, Wolf Willow
Break out the SPF, because summer is finally here! With kids out of school and the weather heating up, there are plenty of outdoor activities to enjoy in and around Wolf Willow. Here are our favorite outdoor summertime activities to enjoy in Southeast Calgary. 1. Explore the trails of Fish Creek Provincial Park With an […]
Meet Jayman BUILT: Wolf Willow's Eco-Friendly Home Builder
Wolf Willow has 5 home styles available and has partnered with 8 of the top home builders in Calgary. We're excited to have Jayman BUILT on board as Wolf Willow's certified Green Builder. Who is Jayman BUILT? Over the last 40 years, Jayman BUILT has become Alberta's largest homebuilder. Jayman is a 21-time "Builder of […]
Wolf Willow Home Owner Testimonial: Sarah and Patrick
It is an exciting time for Sarah and Patrick. A growing family, knowing full well that they were outgrowing their condo, is in the midst of building their new home with Jayman BUILT in the heart of the South Calgary community of Wolf Willow. We spoke with Sarah McKenzie to chat about their home building […]
The Ultimate Guide to Spring Activities in South Calgary
SPRING IS FINALLY HERE! After a long, cold winter it's thrilling to once again see the leaves turn green and feel the warm sun on your face. And with so many benefits of living in South Calgary, you will have no short supply of good ideas when it comes to keeping yourself and your family […]
Spring Dishes You Need to Try!
Nothing tastes better than the first few springtime meals. Light, bright, and packed with peak-season produce. And with patio season quickly approaching (if it hasn't already), there are several food services in South Calgary ready to serve you up some vitamin D as well as some fantastic spring eats. Here is a list of restaurants […]
Wolf Willow Home Owner Testimonial: Denise and George
On Morrison Homes' 60th year anniversary, we highlight Denise and George—homeowners who recently moved into their front garage home in Wolf Willow. Denise and George moved into a small condo as newlyweds and knew immediately they wanted to buy a house with a yard someday. After six years, the couple finally felt the time was right […]
You're Invited to Take Root at Wolf Willow!
Come down to Wolf Willow show homes and pick up a free house plant this Spring. We're celebrating the melting snow and budding leaves by giving away a free plant to everyone who visits our show homes starting March 14th and we'd love to see you there! Plus, you'll get to see the amazing opportunities that await […]
Wolf Willow's Pandemic-Safe St. Patrick's Day
Last year this time, St. Patrick's Day was declared 'canceled' as Calgary was put into a state of local emergency in response to the coronavirus pandemic. But this year will be slightly different as pubs in south Calgary have the restrictions and systems in place to ensure a safe celebration of the four-leafed clover. Here are […]
Happy Romantic Outdoor Valentine's Day Date Ideas
The most romantic time of year is coming up, and there are lots of ways to celebrate with your loved ones other than the traditional fancy dinner in a nice restaurant. We've collected some fun ideas for romantic outdoor dates (and some inside ones in case the weather becomes too chilly). Go for a Walk Along […]
Stick to Your New Year's Resolutions in 2021
Happy New Year! We're kicking off the year by helping you with your new year's resolutions. Here are three of the most common resolutions and some tips on how you can stick to them in Calgary 2021. Get Fit Getting more exercise is at the top of many Calgarian's list of goals each and every new year. Whether you're trying again […]
COVID-Safe Attractions Near Wolf Willow
The pandemic has affected several activities for many people. Public health restrictions have made the holiday season difficult to celebrate this year. But despite the changes caused by the COVID-19 pandemic, there's still plenty of fun to be had and several Calgary businesses that could use your support. Supporting local and seeking out fun activities […]
Wolf Willow Homeowner Testimonial: Patricia's Townhome
Local Wolf Willow homeowner Patricia was generous enough to share her homebuying journey with us. Patricia visited a Madison Avenue Group show home in Wolf Willow and fell in love. Looking to downsize, this home wasn't just the perfect size, but it also included fencing, an attached garage, and landscaping all within her budget. Plus, learning that there were no condo fees was the cherry […]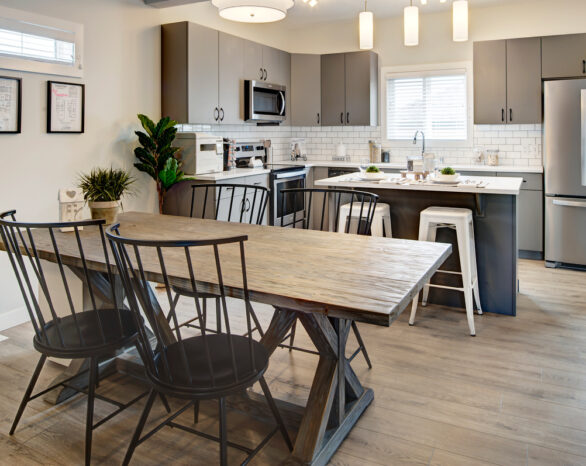 Wolf Willow Home Builder Profile: Look Master Builder
We strive to work with the top homebuilders in Calgary to ensure that Wolf Willow is a south Calgary community that inspires the pursuit of a life worth living. Recently we welcomed a new home builder to the Wolf Willow community. Stepper Homes has been recognized and respected in Alberta since 1956. More recently, in […]
5 Bars You Need to Visit Near Wolf Willow
You don't have to go downtown to find a bar to unwind in. There are many local watering holes conveniently located near Wolf Willow. Whether you are new to town or are just looking for a new spot to hit up, these bars should be on your list. All of these bars are a great […]
Happy Thanksgiving
A message from WestCreek Developments To our valued community members, Thanksgiving is all about showing gratitude for our good fortune. This is why we would like to express our everlasting gratitude to all of our WestCreek community members of the last 20 years. We are grateful. The land we build on We are grateful for […]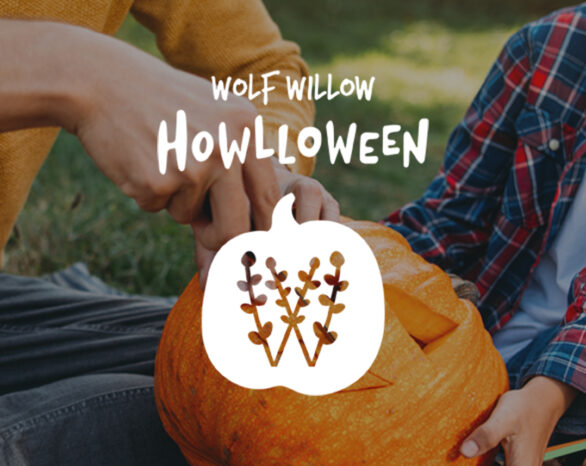 Wolf Willow Howlloween Contest
Happy Halloween! While we might not be celebrating in Calgary the same way as last year, that doesn't mean we can't enjoy the season. This is why we are inviting you to take part in the Wolf Willow Howlloween pumpkin carving contest! Residents, friends and family, and any Wolf Willow visitors are invited. Everyone who […]
How You Can Help Preserve Fish Creek Provincial Park
Wolf Willow is a community filled with nature lovers. Many of the most enticing Wolf Willow amenities involve proximity to natural spaces—access to the river, beautiful pathways and trails, and of course Fish Creek Provincial Park is right next door. As anyone who loves the outdoors knows, natural spaces need to be protected from pollution […]
Wolf Willow as Told by Homeowners
Mike and Beverly DesRochesare the proud new homeowners of a Morrison Homes front-garage home in our community of Wolf Willow, Calgary. They were generous enough to share their home buying experience with the team. About the Home The DesRoches were looking for a new home in Calgary with a bit more square-footage and Morrison homes […]
Choosing the Right Bicycle: Tips for Parents
Recently, Calgary has celebrated the completion of 1,000 km of paved pathways throughout the city! This always-growing pathway is a fun and safe way to explore the city, while getting fresh air and exercise by walking, running or biking. Right now, these pathways are being extended into Wolf Willow to give residents even easier access […]
Why You Should Consider a Flex Room
If everyone in your family has somewhere to sleep, you might not have given much thought to adding an extra room to your next home in Calgary. But don't dismiss the idea just yet—a flex room could give you just the customizable space your family needs to really fall in love with your new home. […]
5 Family Activities While Maintaining Social Distancing
When you have kids, the hunt for age-appropriate activities that will keep them entertained, active, and learning never ends. Living in a family-friendly neighborhood can help, even when our options for fun are limited. In Wolf Willow and surrounding areas, there are lots of opportunities for outdoor family fun that you can enjoy without putting […]
Tips for Tidying Up While Social Distancing
From Certified KonMari Consultant Helen Youn Most people can remember when the TV show "Tidying Up with Marie Kondo" was released on Netflix. It was an instant sensation that had people all around the world debating whether their stuff sparked joy. Today, a little more than a year later, we're all spending more time at […]
Learn from an Expert: Keep Your Dog Healthy and Active in South Calgary
When you make a purchase at Bone and Biscuit, you'll notice three photos of happy dogs on the countertop. They're Hugo, a Shepard mix, Sadie, a Husky mix, and Lily, a Pitbull mix. These dogs belong to Chevonne, the owner of the store. "I would love to bring the dogs into work with me during […]