Subscribe
Written by: Wolf Willow
Posted on:
Wolf Willow Builder Profile: Madison Avenue Group
Looking to purchase a townhome? Look no further than one of our amazing and trusted home builders – Madison Avenue Group. With over 40 years of experience building award-winning homes, they bring so much quality to our growing community here in south Calgary. Read on to learn more about this respected Wolf Willow home builder.
Why Madison Avenue Group?
With so many builders to choose from in Wolf Willow, you might be asking yourself, "why Madison Avenue Group?" Madison Avenue Group strives to build homes that exceed your expectations with executive-quality finishes, all while staying in the mid-range market.
Building your dream home is a major investment, and Madison Avenue Group understands that. Their philosophy is to ensure they can meet your vision by offering a wide selection of pre-planned options, all while allowing for some design changes to create the home of your dreams.
This is the second WestCreek community for this Calgary home builder, and they are thrilled to help you and your family build a life and connect with the great outdoors!
Home Styles in Wolf Willow
Madison Avenue Homes specializes in building townhomes and single-family homes. There are six different townhome styles to choose from in Wolf Willow.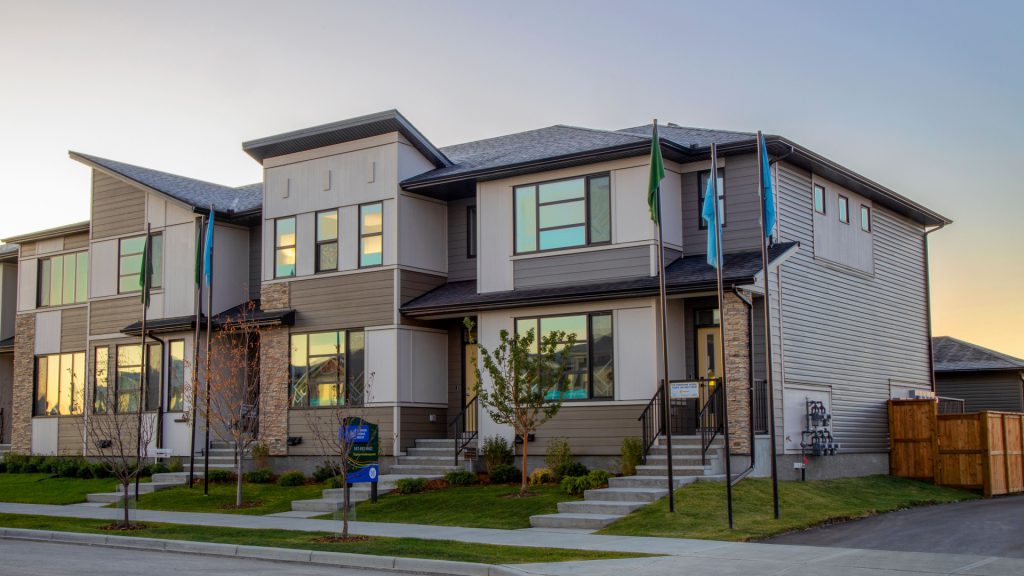 The Franklin, Sanford, Bryant, and Edison are all beautiful open concept homes with 3 beds and 2.5 baths. Each of these homes comes with a central kitchen, private main floor powder room, upper floor laundry, and generous sized walk-in closets in the master bedroom. These homes range from 1322 to 1466 SQ FT.
You can take a virtual tour of the Bryant and Edison models right from the comfort of your own home! Just click on the links and "walk" through the home by clicking around the models.
The Kinsley II and Nevada are also open concept homes with 2 beds and 2.5 baths, but have a single car garage in the front of the house. These homes offer similar features to the four previous units, but have a rear deck, are fully landscaped, and are fenced. The Nevada even comes with a 5-piece master ensuite. These homes range from 1438 to 1518 SQ FT.
Right now, there are still a few Kinsley II homes available in Wolf Willow. It's the perfect location for young families or those who want to enjoy a little extra green space, as these townhomes back onto the newly completed Osprey Park. These homes sell quickly, so be sure to contact Madison Avenue Group as soon as possible if you're interested in living in this beautiful community.
Madison Avenue Group's showhome is located at 9 Wolf Creek Manor SE. The hours are Monday – Thursday from 2pm to 8pm and Saturday – Sunday from 12pm to 5pm.
Live in the beautiful riverside community of Wolf Willow!
There's so much to love about our growing community here in south Calgary. Wolf Willow has all the conveniences of city living while being close to nature – so close in fact, that we have one, soon to be two, entrances into Fish Creek Park right from the community. Imagine yourself taking daily strolls along the Bow River, enjoying the many upcoming parks, and of course the highly anticipated dog park with 9 acres of green spaces for your dog(s) to stretch their legs!
If you are interested in owning a home by Madison Avenue Group, you can reach out to area contact Anna Wojcieszek at awojcieszek@madisonavegroup.com or 403-629-1146.
---
See more Wolf Willow home builders