Category: Things to do
Wolf Willow Osprey Park Opening
Join us for an afternoon of family fun! We are excited to announce the completion of Wolf Willow's first themed playground, Osprey Park! As you may or may not know, all of Wolf Willow's playground's themes are centred on local wildlife and history. Osprey Park is inspired by the osprey, a bird of prey, found […]
Easy Fall Recipes to Warm Your Belly (and Your Heart)
Ah yes, it's that magical time of year – where the morning air is crisp, leaves crunch beneath your feet, and sweaters and leather move to the front of your wardrobe. That's right, it's fall, which means it's also time to add our favourite cozy dishes back into the meal rotation. We rounded up 5 […]
How to Meet Members of Your New Wolf Willow Community
Moving to a new neighbourhood can be an exciting adventure! It can also be a little scary if you don't know anyone in the area. One of the easiest ways to meet people is to join a club. Since Wolf Willow is a new community, there are a lot of opportunities to create your own […]
9 Amazing Summer Activities in Calgary's Favourite South Community, Wolf Willow
Break out the SPF, because summer is finally here! With kids out of school and the weather heating up, there are plenty of outdoor activities to enjoy in and around Wolf Willow. Here are our favorite outdoor summertime activities to enjoy in Southeast Calgary. 1. Explore the trails of Fish Creek Provincial Park With an […]
BASIC DOG PARK ETIQUETTE
The upcoming Wolf Willow dog park is one of the most highly anticipated amenities coming to south Calgary. It's an excellent place for both people and pets to get some exercise and socialization, but in order for the dog park to be a safe and welcoming place, everyone who visits should come prepared with some […]
THE ULTIMATE GUIDE TO SPRING ACTIVITIES IN SOUTH CALGARY
SPRING IS FINALLY HERE! After a long, cold winter it's thrilling to once again see the leaves turn green and feel the warm sun on your face. And with so many benefits of living in South Calgary, you will have no short supply of good ideas when it comes to keeping yourself and your family […]
SPRING DISHES YOU NEED TO TRY!
Nothing tastes better than the first few springtime meals. Light, bright, and packed with peak-season produce. And with patio season quickly approaching (if it hasn't already), there are several food services in South Calgary ready to serve you up some vitamin D as well as some fantastic spring eats. Here is a list of restaurants […]
You're invited to take root at Wolf Willow!
Come down to Wolf Willow show homes and pick up a free house plant this Spring. We're celebrating the melting snow and budding leaves by giving away a free plant to everyone who visits our show homes starting March 14th and we'd love to see you there! Plus, you'll get to see the amazing opportunities that await […]
WOLF WILLOW'S PANDEMIC-SAFE ST. PATRICK'S DAY
Last year this time, St. Patrick's Day was declared 'canceled' as Calgary was put into a state of local emergency in response to the coronavirus pandemic. But this year will be slightly different as pubs in south Calgary have the restrictions and systems in place to ensure a safe celebration of the four-leafed clover. Here are […]
HAPPY ROMANTIC OUTDOOR VALENTINE'S DAY DATE IDEAS
The most romantic time of year is coming up, and there are lots of ways to celebrate with your loved ones other than the traditional fancy dinner in a nice restaurant. We've collected some fun ideas for romantic outdoor dates (and some inside ones in case the weather becomes too chilly). Go for a Walk Along […]
STICK TO YOUR NEW YEAR'S RESOLUTIONS IN 2021
Happy New Year! We're kicking off the year by helping you with your new year's resolutions. Here are three of the most common resolutions and some tips on how you can stick to them in Calgary 2021. Get Fit Getting more exercise is at the top of many Calgarian's list of goals each and every new year. Whether you're trying again […]
COVID-SAFE ATTRACTIONS NEAR WOLF WILLOW
The pandemic has affected several activities for many people. Public health restrictions have made the holiday season difficult to celebrate this year. But despite the changes caused by the COVID-19 pandemic, there's still plenty of fun to be had and several Calgary businesses that could use your support. Supporting local and seeking out fun activities […]
5 bars you need to visit near Wolf Willow
You don't have to go downtown to find a bar to unwind in. There are many local watering holes conveniently located near Wolf Willow. Whether you are new to town or are just looking for a new spot to hit up, these bars should be on your list. All of these bars are a great […]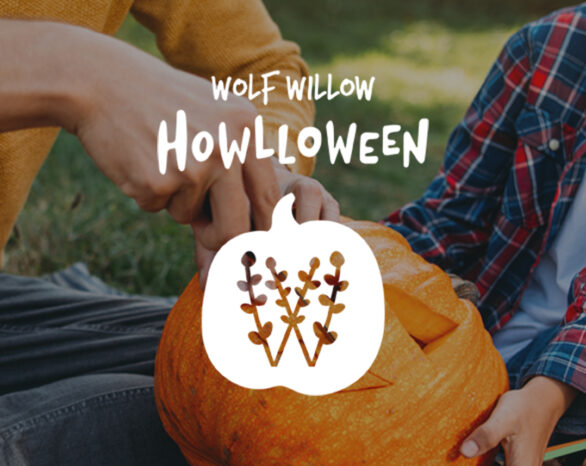 Wolf Willow Howlloween Contest
Happy Halloween! While we might not be celebrating in Calgary the same way as last year, that doesn't mean we can't enjoy the season. This is why we are inviting you to take part in the Wolf Willow Howlloween pumpkin carving contest! Residents, friends and family, and any Wolf Willow visitors are invited. Everyone who […]
How You Can Help Preserve Fish Creek Provincial Park
Wolf Willow is a community filled with nature lovers. Many of the most enticing Wolf Willow amenities involve proximity to natural spaces—access to the river, beautiful pathways and trails, and of course Fish Creek Provincial Park is right next door. As anyone who loves the outdoors knows, natural spaces need to be protected from pollution […]
Choosing the Right Bicycle: Tips for Parents
Recently, Calgary has celebrated the completion of 1,000 km of paved pathways throughout the city! This always-growing pathway is a fun and safe way to explore the city, while getting fresh air and exercise by walking, running or biking. Right now, these pathways are being extended into Wolf Willow to give residents even easier access […]
Discover Fish Creek Provincial Park – Wolf Willow's Impressive Neighbour
One of the most exciting Wolf Willow amenities is Fish Creek Provincial Park. The park is directly attached to the community at the north end by way of a newly constructed access point and parking lot, for the convenience of Wolf Willow residents and other Calgarians alike. Ultimately, there will be a total of five […]
5 Family Activities While Maintaining Social Distancing
When you have kids, the hunt for age-appropriate activities that will keep them entertained, active, and learning never ends. Living in a family-friendly neighborhood can help, even when our options for fun are limited. In Wolf Willow and surrounding areas, there are lots of opportunities for outdoor family fun that you can enjoy without putting […]
Golf Safety with Blue Devil Golf
Thanks to the dedicated effort of Calgarians, the curve is flattening and businesses in Alberta are slowly beginning to open up again. One of the first industries to welcome guests back are golf courses, including the Blue Devil Golf Club in south Calgary. We talked with Blue Devil owner Scott Atkinson about what golfing looks […]
Tips for Tidying Up While Social Distancing
From Certified KonMari Consultant Helen Youn Most people can remember when the TV show "Tidying Up with Marie Kondo" was released on Netflix. It was an instant sensation that had people all around the world debating whether their stuff sparked joy. Today, a little more than a year later, we're all spending more time at […]